Im going to give this another shot later.
Does anyone know were i can find the better skinned example now or the skinned example i was pretty sure someone updated it for monogame but i can't find it now.
Edit:
I managed to get rid of all the extra junk.
Bone: Cube
|_Mesh: Cube
|_MeshParts: 1
|_MeshPart[0]... primitive count:12
|_Effects: 1
 : Microsoft.Xna.Framework.Graphics.EffectParameter

So i just found out that if you use cycles rendering in blender textures won't export.
Re ReEdit
Ok so i managed to get it to work (not even sure how) but monogame doesn't read it anyways it errors. The object viewer in windows does though.
If you look very close at the error there is a mispelling of the extension .fbx it says fbm
dunno if this is a hard coded change and there was a typo made or what.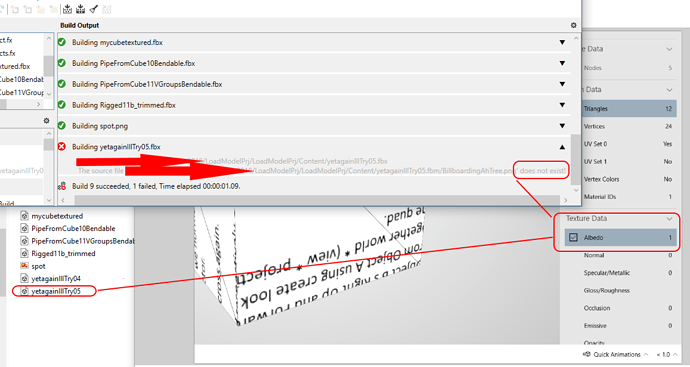 This is the first actual dedicated blender post ive found for converting to games https://www.gamefromscratch.com/post/2014/07/16/Baking-Blender-materials-to-texture-to-make-them-usable-in-a-game-engine.aspx
i got the other info off a forum site.
Here is the instructions do do it but it doesn't actually embed the file in the fbx most of the time. I had to do something else to get it to work but im honestly not sure what i did.
If i don't embed it there are other difficultys.
The problem here on the monogame side since you have to load it in yourself
if you misplace the texture or mix them up very bad since you don't know the name of the textures for the fbx.
Worse what texture goes with what bone mesh or part when you load it in.
As well there is no info i can get to pull out the name of the texture that a bone mesh or part wants ? As all the names in the mesh.effects have null for the texture name.
        /// Off the file > drop down menu There is a option... External files  automatically pack into blend.
        /// will this work for the fbx ?  No
        /// 
        /// When exporting to .fbx, you can't export materials, you'll have the surface color, 
        /// but not other settings such as glossiness and reflection
        /// 
        ///  For textures, yes you can, but you have to use blender internal (!!blender render ?)
        ///  (it does not work with cycles), 
        ///    make sure you don't use nodes, 
        ///    apply the textures, 
        ///  then, when in the fbx export settings, 
        ///    go to bottom, 
        ///    set path to copy, 
        ///    then check the box-like icon next to it, 
        ///  it should now embed the textures with the exported fbx file.
        ///  
        /// But it doesn't
        /// You have to do something else which i did by accident and im not even sure what it was.