I'm installing VS 2019 on a new Windows computer and I can't find the extension.
Can anyone help?
Try this in Command Prompt:
dotnet new --install MonoGame.Templates.CSharp

It did something. But it doesn't seem like it solved my errors. When I go to Manage Extensions it doesn't appear under installed.
This is the screenshot from trying the command for a third time: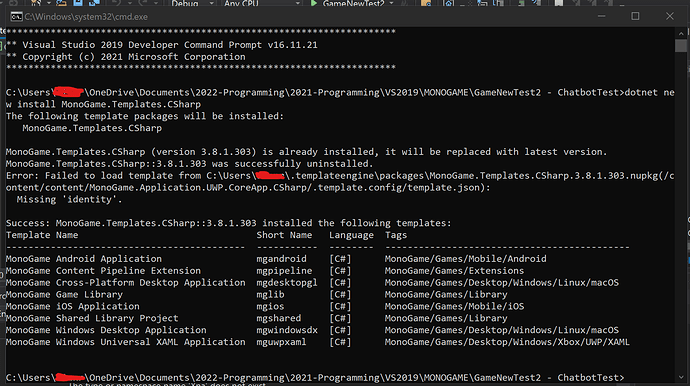 Could it be cause it installed the 3.8.1 version of the templates and not 3.8.0?
and if you create a project via dotnet CLI ? … like
dotnet new mgdesktopgl
The testGl file seems to run just fine. The Monogame Templates still don't show up under Manage Extensions, but the namespace issues I was having with my project aren't occurring here.
Even though this worked in the command line, when I click start new project, none of the project templates appear.
If you need to use Visual Studio 2019, we encourage you to stick to MonoGame 3.8.0.
I plan to stick with 3.8 for now. The project I'm trying to load uses 3.8 and I modified the templates install command so that it installed 3.8.0.1641 instead.
Can't think of why it wouldn't work. Templates for 3.8 should still be supported in 2019.