I'm working on a tactical RPG where the Player Characters are 2D billboard sprites set in a 3D world (think Final Fantasy Tactics). The view is isometric and the camera can be rotated the full 360 degrees (albeit in 90 degree chunks). The "facing" of our characters is done by using different textures based upon where the characters is currently facing.
I'm having issues trying to figure out how to calculate this mathematically based on the camera. I've done some research online but unfortunately I haven't found any solutions that have a camera that can be rotated - every example of facing I've found has been fully 2D or uses a fixed camera position.
A few pictures (with some sweet MS Paint Art) to hopefully help illustrate what I'm trying to calculate: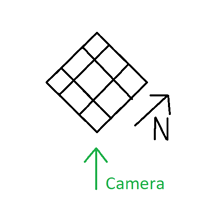 In this first instance, when the character is facing north, we would use the sprite which is looking to the top right of the screen.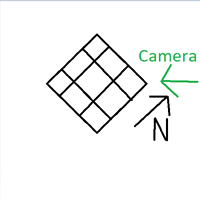 In this second instance, the character facing north would be rendered using a sprite which is looking to the bottom right of the screen.
I don't think it should matter much, but just as an FYI I'm currently using cut-out Ramza sprites from FF Tactics as temp art in my test while I try to get the code working: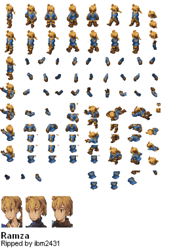 I'm trying to figure out a good way of mapping the texture to use based on both the facing of the unit and the camera direction. I'm currently mapping each cardinal direction to an angle value (North = 0, East = 90, etc) but I can't figure out how to calculate that value with relation to the camera AND facing vectors.
I'm hoping someone has had some experience doing this before that could provide an idea of how to go about it. Either that or someone can point out an extremely simple solution that I'm just overlooking because I've been staring at this for a couple days now, which is often the case