I am very familiar with Visual Studio, but a total newbie to MonoGame. My apologies if this issue is already known or not a concern. But, I think it should be considered as it might scare off some people new to MonoGame.
I have Visual Studio installed already. I then went to download the installation exe for MonoGame for Visual Studio from the following page.
I chose the latest version shown below.
MonoGame 3.7.1 for VisualStudio
I downloaded the "MonoGameSetup.exe" file and then ran it. Windows immediately gave me the warning message shown below. Scroll down for more info.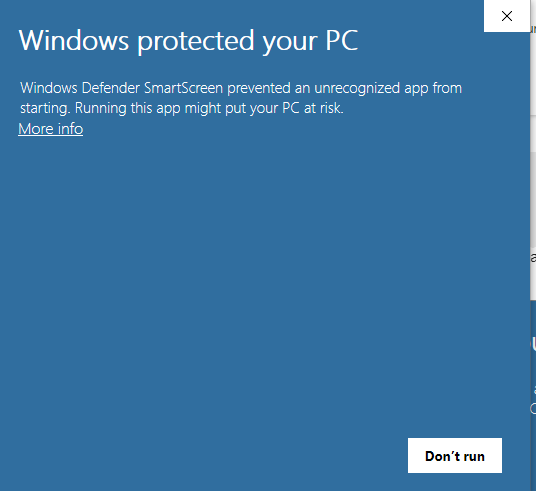 Having this message pop-up from starting the installation file might scare off people new to MonoGame and\or who just don't want to take any risk as to why they are getting that message. It sure makes MonoGameSetup.exe "appear" to be a security risk. And actually, it doesn't even give you an option to continue installing MonoGame on that screen above. So, some people might just click on the only button available on that screen ("Don't run") and decide to not proceed thinking there must be something really risky or wrong with this file. A virus detected or something? ("Don't run" - click)
You actually have to click on the more subtle "More Info" link (in screenshot above) before you are able to proceed with the install. Some people may not realize that and just think that it can't be installed. When you click on "More Info" you get the screen shown below. (Scroll down for more)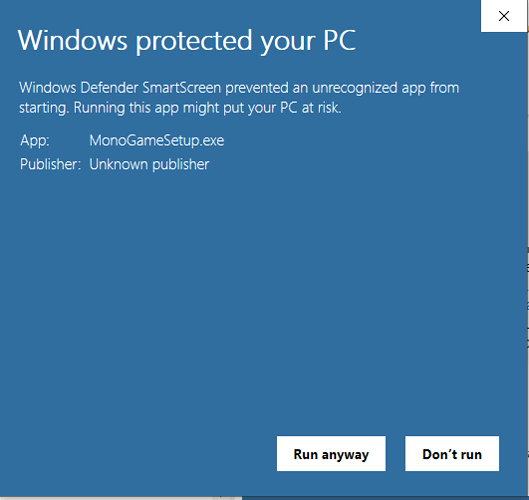 Now we know what the issue is that Windows doesn't like. No publisher was defined for the file. Well, that is what the window says. It's actually a little more than that. But, not much more
This link seems to give an overall description of the problem and solution.
https://docs.microsoft.com/en-us/visualstudio/deployment/trusted-application-deployment-overview?view=vs-2015&redirectedfrom=MSDN
So, I don't know if this issue is already known by the MonoGame developers or not. If already known, then please disregard. But, it seems to me that this might scare off some (newbie especially) potential future MonoGame developers.