How can i hide contour of my sprite ?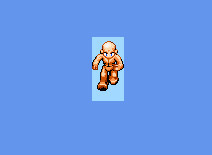 The part of light blue.
Thanks.
You need to set a color key in the monogame pipeline tool: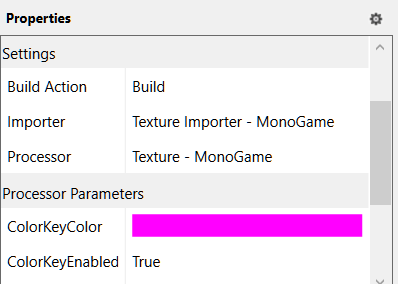 It seems that you have some very basic question. I recommend to do some tutorials. Please take a look at the link collection in the documentation (as well as at the documentation itself).
You will find a lot of other tutorials in the internet. You can also search for XNA tutorials, because most of them should also work in MonoGame.
I also want to recommend a great list of helpful links regarding game development and MonoGame:

I'm sure it will help you on your way up

Don't hesitate to ask further questions here if you are stuck at some point.
Cheers,
Marcel
Ok thanks you !
I just finished yesterday the Coursera XNA Monogame Tutorial, and before that OpenClassRooms XNA Monogame Tutorials and many others on youtube,
and now i begin a "personnal project" for training what i learned.
sorry for ask basics questions but my bad english didnt allow to find this question on documentation, trust me before to ask, i past long time to search for that.
But i will do much tryhard more the next time, but i cant spend my day for basics learn


Thanks for your help and your links i bookmark that and read that tonight.
No problem at all

You are doing it right.
No need to say sorry - everyone here once was a beginner. It just seemed that you need some basic starting points.
Of course you should come back and ask further questions

We will help.
Have fun learning and playing around with MonoGame

Thanks

Hi,
so i tried to change
"ColorKeyColor" :
00FFFFFF (RGBA : 255, 255, 255, 0)
-00000000 (RGBA : 0,0 ,0 ,0)
"ColorKeyEnabled" :
True or False
"PremultiplyAlpha" :
True or False
I tried all possibilities because i dont understand what means specificly "PremultiplyAlpha" and more,
i think the documentation are not very much explicit :
http://www.monogame.net/documentation/?page=P_Microsoft_Xna_Framework_Content_Pipeline_Processors_MaterialProcessor_ColorKeyColor
because some others guys have same problem and he can't solve :
http://community.monogame.net/t/texture-alpha/
This is the texture :
http://i148.photobucket.com/albums/s5/enitblud/sigma_star_walking_8_frames_ryanwh.png
Edit: I partially understand what PremultipliedAlpha utility and i understand it's not my problem, but i tried to change his value because i was desesperate

You can set premultiply alpha to none. Then open up your current paint program whatever it is and fill that light blue area via overwrite to color 0 0 0 0 r g b a respectively. Then it will not be drawn under spritebatch.
I don't use pre-multiplyed alpha myself. You may want to additionally set up spritebatch to use point clamp ect… point.
No thx its not efficient.
I find solution at my problem but in french, i put it here if someone speak french are same problems in the future :