I've decided to check out DigitalRune Engine
WARNING!
If anyone wants to do so, DO NOT download Protobuild . Download Protobuild Manager instead (latest). I'm not sure about the WindowsInstaller. I used the source code.
Protobuild.exe in Protobuild is malware, according to anti-virus software.
The Protobuild.exe in Protobuild Manager didn't set off any alarms.
I get this error while trying to build DigitalRune-Editor.
Error CS0246 The type or namespace name 'Microsoft' could not be found (are you missing a using directive or an assembly reference?)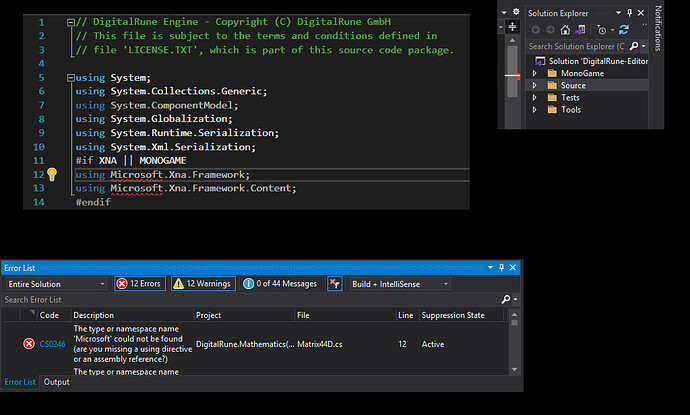 I don't know how to manually include the dependencies it's missing.
I found some suggestions, like here, and I tried
PM> dotnet restore
Resulting in an error.
MSBUILD : error MSB1011: Specify which project or solution file to use because this folder contains more than one project or solution file.
As you can see, that does not work for the solution.
Does anyone know another way… hopefully an easier way, I can include those dependencies?
I am looking at the Microsoft docs, to see I can learn more.
The dotnet restore command uses NuGet to restore dependencies as well as project-specific tools that are specified in the project file. In most cases, you don't need to explicitly use the dotnet restore command, since a NuGet restore is run implicitly if necessary when you run the following commands:

dotnet new
dotnet build
dotnet build-server
dotnet run
dotnet test
dotnet publish
dotnet pack
Sometimes, it might be inconvenient to run the implicit NuGet restore with these commands.
Implicit restore
Building requires the project.assets.json file, which lists the dependencies of your application. The file is created when dotnet restore is executed. Without the assets file in place, the tooling can't resolve reference assemblies, which results in errors.

You don't have to run dotnet restore because it's run implicitly by all commands that require a restore to occur, such as dotnet new, dotnet build, dotnet run, dotnet test, dotnet publish, and dotnet pack. To disable implicit restore, use the --no-restore option.

The dotnet restore command is still useful in certain scenarios where explicitly restoring makes sense, such as continuous integration builds in Azure DevOps Services or in build systems that need to explicitly control when the restore occurs.
If this is the wrong place to post this, I apologize. I just thought they might be connected, since DigitalRune Engine is xna/monogame based.