I'm trying to write a shader to do fog of war. I first create a fog effect then I apply a mask to crop it from around a light source. It works with a single light source but I may have multiple light sources.
Because I couldnt have multple pixel shaders for each light source mask, I tried building in a bunch of polygon mask checks into the shader. When trying to expand my effect parameters from:

to: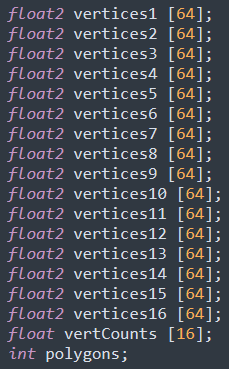 I get the following compile error message:
"maximum ps_3_0 constant register index (224) exceeded - Try reducing number of constants referenced"
Can I not create this many parameters of this size for a pixel shader?
Thanks