Hello everyone,
I would like to make a cross-platform game and I was able to set up my IDE for that, but I have a problem.
I have the following projects in the solution:
my game engine as a shared project
my game code also as a shared project, which should reference project 1 (this already doesn't work)
my OpenGL project referencing project 2, but that also doesn't work as project 2 doesn't compile.
This is what it looks like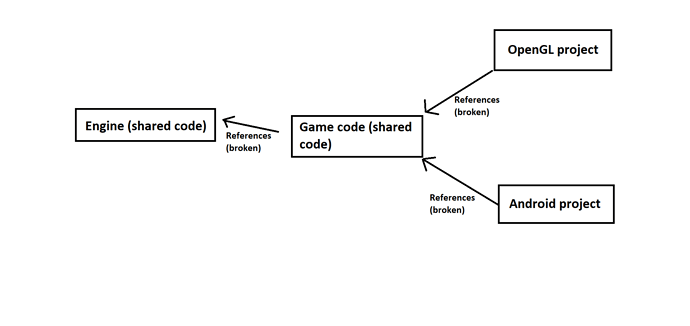 What I'd like to achieve: I'd like to use my engine to develop a game for mobile + PC, therefore the engine's code must be a shared project, but to be able to test/run the game on PC as well as on mobile, the game's code must also be a shared project and included in the target platform project file.
The problem is, VisualStudio 2019 doesn't seem to support using multiple shared projects, as soon as I'd like to use the engine as a shared project in the game code (also shared project) the whole thing breaks. In a nutshell: if I just use the game's code as an OpenGL project, for example, then including the engine as a shared project works nicely. But if I try to code the game as a shared project, it breaks.
Am I doing something wrong here, or is there any solution to get around this?
Thanks,
Lajos