Welcome
The Navigation Menu, click here to expand and close

---

---
Hey there, first and foremost, Welcome to the Community, we hope you settle down, – find a hut somewhere, and start the BBQ, I mean, – get comfortable, get coding, and enjoy coding like we all do.
Why this thread exists:
I noticed something was missing, something for visitors looking for their next challenge or inspiration, and to understand what MonoGame is so they can get to choosing it and getting started already.
So, with that said, if that is you, and you want a one stop shop to understand whether you should or not use MonoGame for your course or project, read on.
I have once been fishing around for something to move into from my previous coding language, you might say it was my search for my move into a C like language. You may be looking for your first foray into programming or game development or just started a university thing, keep reading.
Long ago I knew I wanted to use C#, so MonoGame ticked that box immediately. I was moving from one programming language to a level up.
MonoGame uses C#.
I had previously utilised a framework-like toolset, where you had something to display things, but you had to tell it what to draw, MonoGame ticked this box too.
MonoGame is a Framework, which handles Inputs, Display, Sound, and more…
I also wanted something which had plenty of documentation or tutorials, as MonoGame is XNA based, those books and online resources all explained how to do things in XNA/MonoGame, another box ticked.
You can find a lot of XNA books, and even a handful of MonoGame related books on Amazon or a good book store, as well as across the internet.
Microsoft XNA – which was discontinued around a decade ago – was so loved, communities grew to keep it alive, communities such as this one. And for me, a helpful community was essential to find help when it was needed, MonoGame – you guessed it – ticked this box too.
MonoGame's Community, while it may seem quiet around here, is very much alive and kicking, – however the BBQ, I mean activities have shifted to a more real time experience – over on Discord, link here: MonoGame Discord
I realised MonoGame was a community project, which leads to the question, how is the website funded?
You can learn more about supporting MonoGame here: Donate | MonoGame and also find the modern thing people do, over here: https://www.patreon.com/MonoGame
Now, whenever you look at a new tool, you do find yourself wondering, how does this hammer work? Can it nail and un-nail things? Well, while your local hardware store may not have live demonstrations, MonoGame on the other hand, does have a showcase to give you ideas of what you can achieve with it. We used to call this; Box Art.
__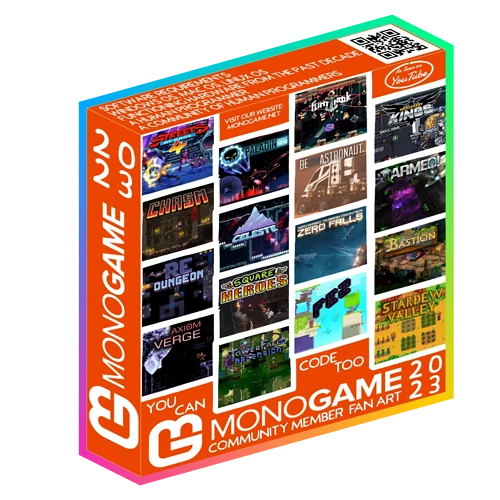 __
You can find the MonoGame Box Art over on the Showcase page, found here: Showcase | MonoGame [Yes, I side stepped to make the box art you see above, yes, the QR Code works.]
So, it has a structure to its code, right? Yes, it does, somewhat, you in the end decide how it glues together.
You can seek the official documentation here: https://docs.monogame.net/ more specifically you want to look at Getting Started | MonoGame Documentation.
Remember, if you need help with the ability to back trace your help, post a thread on the forum, I recommend using a GitHub account to sign in.
You are reading this on the forum, look at the top right of the forum to see a button to Sign Up, then click '+ New Topic' in the same area once signed in. Set the title to be something relating to your issue, and then write the description in the body of the topic box, and select a category close to the issue, and optionally add a tag such as UWP, Linux, or, MacOS / iOS, remember to click 'Create Topic' at the bottom.
You may also find yourself thinking, who works on this? There is a page for that too.
You can learn more about MonoGame and the people involved over on the about page, which is here: About | MonoGame.
Hey, but what about video tutorials?
Check YouTube for those, there are plenty for everyone's taste.
And finally, the moment you have been reading for, how do you get started with MonoGame? Well, technically that was already directed earlier, but you could also take a look over on the Downloads page: Downloads | MonoGame.
So, you find yourself wondering; who wrote all this? Well, I am just like you, a member of an enthusiastic community. So, welcome, take a seat, the BBQ is good here.
Thank you for reading, and I welcome the community to share their story of how they got here, and show their works, and if you have the time, share your experiences with MonoGame and why you chose it.