Hello,
I hope this post is okay. I have done a search and not managed to find anything so please, close or ignore this if I'm just being a dumbass.
I've successfully loaded images and shaders using the Content Manager using MonoGame 3.6. I have tried with an audio file and its causing an exception.
In a nutshell, the load function for "Song" is looking in the root of my drive for the sound file, instead of root of the "Content" directory. I've attached an image :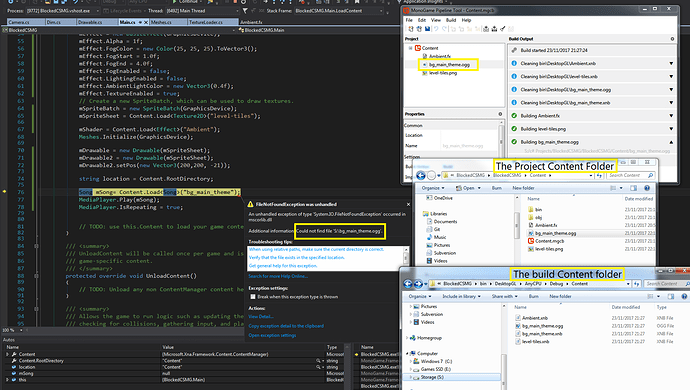 As you can see, its built fine, its in the root of the Content folder like the image and fx files. I call it by its name with the extention omitted.
Edit: "Build Action" is set to "Build" and if I put the .ogg in the root of the drive, it plays no problems.
So, have I setup something wrong or is this unexpected behaviour? Any insight/help is really appreciated.
Incase its needed I'm using Visual Studio 2015 Update 3 on Windows 7 x64
(And I fixed the local declaration of mSong, it has no bearing on this issue)