Hi all, I've been wrestling with trying to install MonoGame and get it up and running for over three hours now, I'm hitting a brick wall and all my googling has just led to trying things over and over with no luck. I don't have a background in VS so much of this is new to me, so please if you're going to suggest installing things please specify what you mean - whether its a CMD prompt thing, a PM thing in Visual Studio, etc. I'm trying to get a handle on what all these means, but honestly all I want to do is being able to start a new project in VS with a MonoGame template and have it work. I have no idea why this is so difficult. Here is what I've done so far:
As per the 'Getting Started Guide' I installed Visual Studio 2019 and then installed the extension/project templates, and used dotnet to install the MGCB Editor. From here, starting a new project led to this error: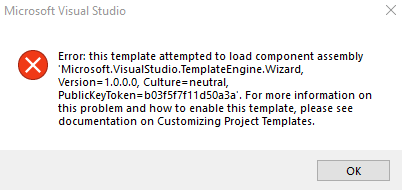 I don't really know what that means, so I googled it and found a bunch of people having similar issues, many pointed to the fact that the templates don't work in 2019 (despite the getting started guide specifically asking for 2019). They started you needed templates from 2017, and a few members provided them. The first time I did this, I got the same errors, and a future user stated you needed to EDIT the template files to make them work. Somebody provided the edited files, which I then tried placing in the correct directory. This led to this error: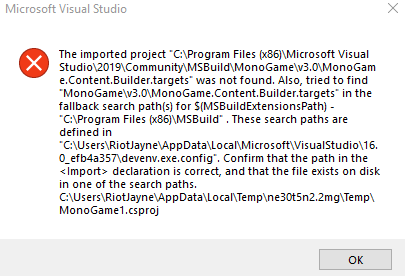 This led to much less online results, and I wasn't able to follow the error so I figured I'd give up on VS2019 and install VS2017. Unfortunately, after installing and restarting, this led to the same error, so I tried to dig deeper.
As it was discussing Content Builder Targets and MSBuild, I googled these things and found a few people mentioning MSBuild needing to be installed, and on the MonoGame page it does have Content Builder Targets packages that you can download/install with dotnet, despite it not mentioning anywhere I should do so. I figured maybe it should have been included in VS but wasn't due to my selections, so I did this. I ran the command:
dotnet add package MonoGame.Content.Builder.Task --version 3.8.0.1641
It went through and apparently installed things, but I still dont see a Monogame folder in the MSBuild directory. I tried running the Nuget commands instead to install it, but this gives me a "solution not open" error which I'm assuming is because I don't have a project open. But I can't open a project because I get the above error.
I'm sure the solution is relatively simple, but I've tried installing vcredist from 2012 and 2013 as per an online page suggestion, tried swapping folders around, opening files to edit them and reopen them, reinstall VS2019 and VS2017, I really don't have any idea what to do next and I've run out of goggle page solutions to try. Any help would be greatly appreciated. I'm at a loss for words over how difficult it has been to try and use MonoGame.