Hi,
I am new to this community and fairly new to Monogame. I have been trying to build my TMX map file (to XNB file) with MGCB Editor to no avail. It throws an error "Couldn't find a default importer…". When I click on the TMX file the properties show the Importer and Processor are "Invalid / Missing". It works fine for PNG files. I have been looking everywhere through these forums and other places to look for a solution with no luck even though I see others have encountered this problem. Does anyone know how to solve this? Or, is there a better way to build/load maps for use with Monogame? Here are some details…
What I am using:
VS 2022
Monogame (not extended) Desktop GL, Monogame Pipeline, and MGCB Editor 3.8.0.1641
TiledSharp 1.0.1
Tiled Map Editor
I have tried various things I've read about in other threads that have not worked…
I've added references in MGCB to the Monogame DLL files
I've uninstalled and reinstalled the MGCB editor and the Monogame NuGet packages
Exporting TMX file in Tiled to other formats (XML, CSV)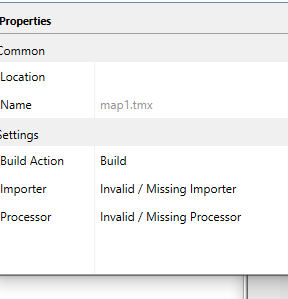 ---
SOLUTION: I solved the problem by following the steps at the bottom of post (link below). However, it would absolutely not work with Monogame standard framework pipeline. I had to install the Monogame extended pipeline for it to build. Also, this meant that TiledSharp would no longer work. So, I just switched to Monogame.extended.tiled and I was able to get it all working and displaying a map in my game.