Before I begin, let me say that I am a long time user of Monogame. I love the software and the open source community that came together to produce it. For everyone who contributed to monogame, thanks a million. You rule.
Down to business. I've been working on a 2d action platforming game for about a year and a half now. At the current stage of my game I am using Monogame 3.5 for Windows.Using MGCB and Inkscape I've hashed out a basic level editor that turns out rendered images and compiles them for use with monogame. The abridged version of this:
-In inkscape, I draw and mark each layer as a decoration
-With inkscape's python extensions I create a response file for mgcb to consume
-Inkscape then spits out the marked layers as .pngs
-Inkscape's python ap then calls mgcb.exe to process the images and create a level file
This process was working great until I tried getting more detailed with theimages I was rendering. Here's a couple of pictures of the culprits.

This is a rendering of a plant decoration for my game.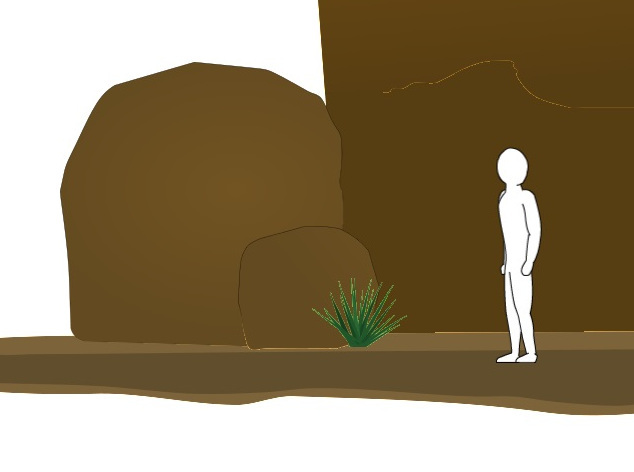 Here's the plant in-game.
Not quite the same thing. There are visble artifacts on the plant and the surrounding boulders as well. Images only get you so far, everybody likes details: I render the bush as a .png and then the response file that consumes the .png will look something like this.
/platform:Windows
/outputDir:C:\Users\Connor\Documents\Visual Studio 2013\Projects\CodeQuartz\CodeQuartz\Content\bin\DesktopGL
/intermediateDir:C:\Users\Connor\Documents\Visual Studio 2013\Projects\CodeQuartz\CodeQuartz\Content\obj\DesktopGL
/importer:TextureImporter
/processor:TextureProcessor
/build:layer240-0.png
/build:layer100-0.png
/build:layer470-0.png
/build:layer60-0.png
…
Where layer240-0.png would be our plant rendering. The processor parameters for the texture are left at the default, which means I am working with a premultiplied alpha. The plant (as well as the rest of the decorations) are drawn with premultiplied blend mode. I have tried playing around with the alpha blending settings as well as color keying with more or less the same result. If anybody has any hints or ideas of what might be going on, please let me know. Thanks in advance.