I can't get MonoGame.Extended.Tiled to work. I followed this sample.
Here are the steps to reproduce the error:
I create a new MonoGame CrossPlatform Desktop Project (MonoGame version 3.6) in Visual Studio (2015).
I install the MonoGame.Extended packages (latest stable release 0.6.377) via NuGet.
I follow the sample code.
// I add these members to the template
private Camera2D camera;
private TiledMap map;
private TiledMapRenderer mapRenderer;

// I add this code to LoadContent
var viewportAdapter = new BoxingViewportAdapter(Window, GraphicsDevice, 800, 480);
camera = new Camera2D(viewportAdapter);
// I created a map named "level" (see images), added it to the Content Pipeline - successful build
// Naturally I also added the necessary tileset ("PokemonTiles.png") with the default Texture Importer
map = Content.Load<TiledMap>("level");
mapRenderer = new TiledMapRenderer(GraphicsDevice);

// I add this to Draw
var viewMatrix = camera.GetViewMatrix();
var projectionMatrix = Matrix.CreateOrthographicOffCenter(0, GraphicsDevice.Viewport.Width,
         GraphicsDevice.Viewport.Height, 0, 0f, -1f);
mapRenderer.Draw(map, ref viewMatrix, ref projectionMatrix);

When I start the game I get this: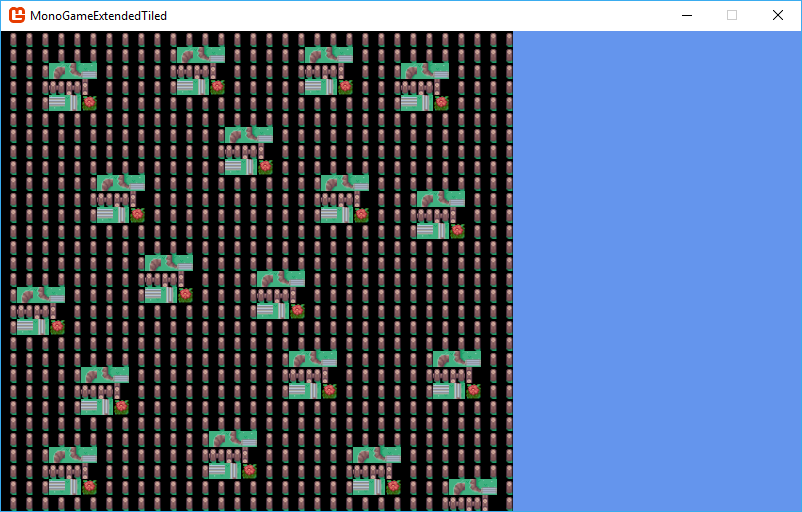 There are 2 problems with this image. First, the wrong tiles are rendered. Second, for some reason the transparent part of these incorrect tiles is filled with the color black.
Here is how it should look like: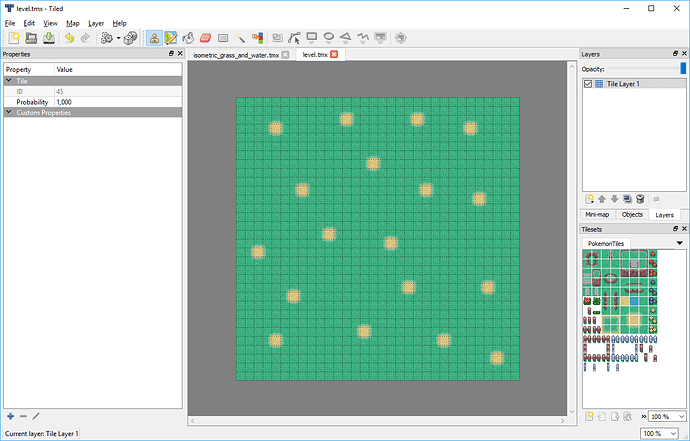 Please help me, as I am not sure how to fix this.