Dear amazing MonoGame Community,
We have just published our first title SpaceWorms on Steam.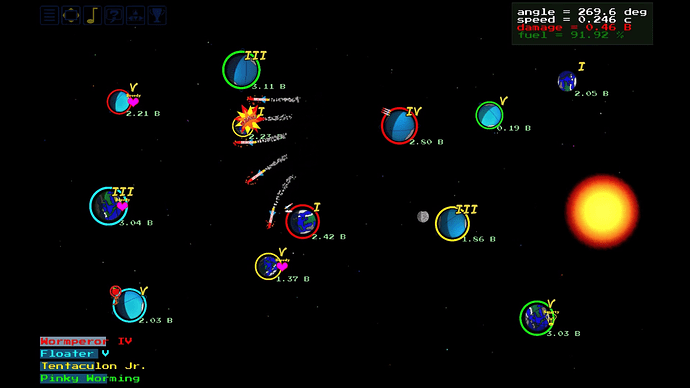 It's a pretty dark but humorous artillery game blended with a turn-based strategic builder: You take on the role of "Ze Wormperor" and must conquer the known (and pretty flat) universe by destroying, stealing from, colonizing, and conquering the surrounding planets and your enemies.
This release would have not been so possible without your support. Thank you.
As a return favor for your time invested in answering our countless questions, please use one of the below 49 Steam keys to get immediate access to SpaceWorms (maybe it's a good idea to comment on which keys are already in use).
9I2F3-KDC94-847LV
Q9QKP-Y8GIW-WMEPY
K0CL6-EH8Y6-L0QFE
40D55-4XMIV-F9C3N
NPM5N-063TH-0XQ3X
L4K73-F09EW-CCR98
2AC3Q-62V66-RFXRI
N3WTI-K3DM9-XTKQ4
XY5Q8-4YKZN-AIBAA
ZAV2A-99RF3-TBJ68
C2RNN-3TAHM-JAGBP
XN2J9-0DT9Z-6Y3H5
QK3IL-ZK4WG-ZK8NP
JVHQR-04L8F-KW220
ADKBW-2RV4H-DAY9X
YICPD-NPT5V-494A3
BDHYA-6MBL2-RF2JK
C0EWD-HNHL3-K325R
T77HR-I58VB-JLE42
NQV4V-3ZPVJ-P4W4Y
NAYAK-QXGH7-8FTW5
8572P-NEPTG-B9BNK
PKT0V-TRX3G-JAY8V
VPFEV-E2EIW-Q84AD
VNDXM-YVR60-IE96W
5Q60Q-LCQ75-EEGF0
38LZ0-095C6-8Z9V5
3CFF7-CBYX5-TRGHF
YYPA2-LZD8J-GN07I
V633Z-DA9VK-45HJH
TQ20J-AZR4T-FNXEJ
5YG3P-AHLLV-95R5F**
NEZFC-4Z28Q-NKYV4
NER82-Q4KVM-RQXTN
ZXVFY-MANNA-AW9T0
5GII8-0Y2LN-HBHY2
8GVX3-8X7W5-3LZKF **
GBHRX-PXG3L-85WMW
K8W4T-H09M2-3VQKD
89WX2-3W75Z-TJPC4
55ZJ6-BZM8V-6G7H6
2E3BP-B0ALT-5X9MW **
AA0PD-7GRBW-4PWTV
ITW59-9Q8LE-Q5HTY
ZAVGZ-3N9ZP-QJX54
9D06X-CWT00-P089H**
MV68H-2KX0H-V9KEF**
7FPBL-ZE9P2-22BY6
BT8FX-DMCIW-HHE97
**taken
Best wishes
Max aka. His Wormnificence