Hi guys,
by far my most memory allocations which are happening on the fly and filling up garbage are SetVertexBuffers calls for instanced models. If I disable this part of rendering my GC memory doesn't fill up even half as fast.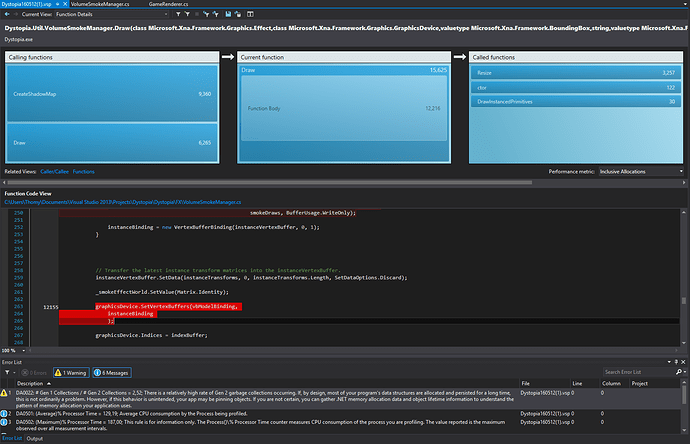 Now is there anything I can do about that? I only call SetVertexBuffers once per frame, I only use it for smoke geometry right now.
Normal SetVertexBuffer doesn't seem to generate any garbage in comparison, and the files i am sending for the geometry instancing are:
graphicsDevice.SetVertexBuffers(vbModelBinding,
instanceBinding
);
The vbModelBinding is a vertexBufferBinding to the model, which is just set up once.
The instanceBinding is a binding like this
instanceBinding = new VertexBufferBinding(instanceVertexBuffer, 0, 1);
I don't change it per frame in terms of size, but I do change the instanceVertexBuffer per frame in terms of content.
Like this:
instanceVertexBuffer.SetData(instanceTransforms, 0, instanceTransforms.Length, SetDataOptions.Discard);
Now this is just a single Matrix per instance, so it's really not that much data I am sending.
I had no problems with memory when I sent every piece of geometry individually (via SetVertexBuffer, Indices) 300 times, but performance on GPU-side is a lot better with sending 1 piece of geometry and 300 transformation matrices, however GC hates it.
What to do?