So, I have been procrastinating for a while, and considering it takes 60 days to form a habit, let us start today!
Posting this a bit late in the day as I had to re-arrange my room to make space and clean up all the dust… it never ends.
So, what is this thread about? why is it here? why are you delaying? You ask?
Well, I have been putting off learning MG for quite a while now, and finally I have a drive I never had before.
My aim here is to:
Demonstrate how a complete [almost] beginner can utilise Monogame to create an engine and subsequently publish a complete Game or a Demo, and how to go about it.
Create a Blog/Log to keep me on track and refer to when revisiting a certain aspect.
Make available discussion on topics covered throughout the process.
Make available tips and basic code for setups or input etc. as a form of tutorials/guides for newcomers.
Make available links that Windows Store Publishers find helpful.
Making a list that forgets what else was supposed to be here so I may come back to this list and amend to it in future.
I was supposed to post some content today, I still may achieve it, however my hoover battery went flat, and there is a huge dust patch that needs doing right now, just need to wait twenty minutes and I can get it cleared and then post some early content later tonight, the goal is I achieve something regularly on a daily basis, I even relaxed my study speed to read around nine pages per day to complete the first book by the end of next month, giving me extra days to shoot ahead or create content for each section.
The book I will start with is one I have mentioned before, but here it is for starting stage marking: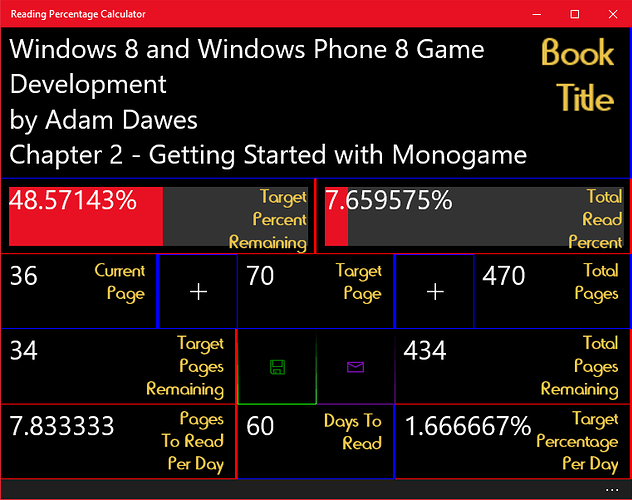 As I am already on page 36, putting me four days ahead, but I will still stick to nine pages per day as a daily goal post.
This book comes with a lot of focus on implementing Monogame into a UWP XAML app, as this is my target platform, it makes the perfect starting point for me, and will be the core focus on this log.
I cannot think too much right now, I just cleared the dust, time to do a few more chores and then get looking at MG and post some content for todays log.
See you later, thanks for reading.
Valentine
---
Below is a collection of useful links that will be helpful to UWP Developers.
Useful Links

[Protip, look at the left side of the screen when on this page, look at the bottom left corner, see the Download PDF link?]