Hi
I'm working on a project on MonoGame 3.6. (Powercity 9000)
I used to work on a computer running Microsoft Visual Studio 2015, but I recently made a new computer and installed Visual Studio 2017.
I imported my MonoGame project, and the first thing I saw when I started the project, was that my font wasn't correctly displayed. I looked into the code and I noticed that my font size was different. (I use SpriteFont.Measurestring())
Difference
old computer, Visual Studio 2015: size of 32
.
new computer, Visual Studio 2017: size of 44
I can easily modify the code, but I'm curious why the font size is different on these computers.
One "pixel" (it's a pixelfont) of the font is a value of 4 on each computer. This is why the code doesn't work on the new computer. The new computer takes a value of 44 and divides it by 8. You get a value of 5.5 instead of 4.
You can see an example of the font below.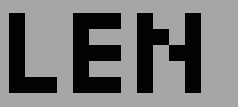 UPDATE
GitHub issue: https://github.com/MonoGame/MonoGame/issues/5802