I have been working on a UI framework for the last year and as a part of this process, I came across the need to develop a dynamic font system.
I wanted to design a system that allowed rich text styles and paragraph like properties.
The system allows fonts to be loaded at runtime for less intensive games but also provided a batching system for loading multiple font sizes and styles in a single font description file.
The system includes:
Runtime font face loading
Indentation
Sub and super scripting
Underlining, strikethrough and bar decorations
Dynamic line spacing (based on the largest font in the line)
Paragraph before and after spacing.
Special paragraph indents like hanging and first line.
Text styling utilises record types introduced in C# 9, allowing for quick copying of the immutable type with modification using the with keyword.
Example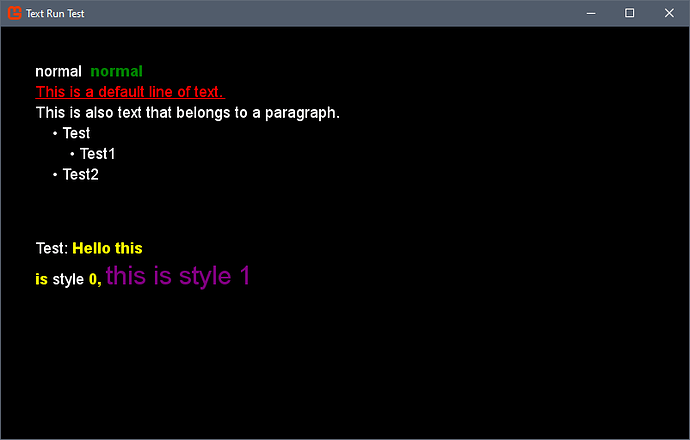 Runtime Loaded Sizing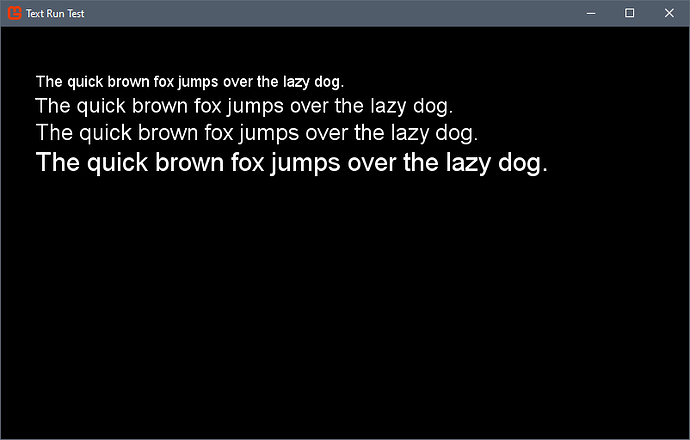 Paragraph Implementation
        Paragraph p = new();

        p.Format = new ParagraphFormat() { 
            AfterSpacing = 0 , 
            BeforeSpacing = 0, 
            LeftIndent = 0, 
            RightIndent = 0, 
            LineSpacing = 0
        };

Writing to Paragraphs
        p.Write("The quick brown fox jumps over the lazy dog.");

        p.WriteLine("The quick brown fox jumps over the lazy dog.",
                    TextStyle.Default with { Face = Fonts.GetFace("Arial", 24) });

        p.WriteIndexed("&*Test: &0Hello this \nis &*style&0 0, &1this is style 1", 
            TextStyle.DefaultBold with { ForegroundColor = Color.Yellow},
            TextStyle.Default with { ForegroundColor = Color.Purple, Face = Fonts.GetFace("Arial", 30)},
            TextStyle.DefaultSub
            );*/