Hello,
first I want to thank the contributors to the project and everyone who is active in the forum. I'm using Monogame as a hobby game-dev basically since XNA was discontinued and since then invested thousands of hours in game development with Monogame.
This is my first post and I also just saw the Patreon page: I immediately signed up for it in order to thank those who invest their time in this great project!
To my issue:
I'm developing a 2d action game with fast player movement in 360 degrees and camera movement using a Vector2 screen position, following / centering the player with some smoothing of camera movement. The drawing is done via SpriteBatch.
Most of the static environment is grid based (64x64 px). The player and enemies are not locked to this grid and can move freely, having Vector2 positions.
This scenario comes with the issue of drawing stuff that is not snapped to device pixels, therefore creating blurriness.
I countered the issue by first drawing things to a separate rendertarget with screen position aligned to the 64px-grid. On the rendertarget the static grid-based objects are therefore drawn snapping perfectly to device pixels. This avoids lines/glitches between grid-based objects. Hope this illustration makes it clear what I do: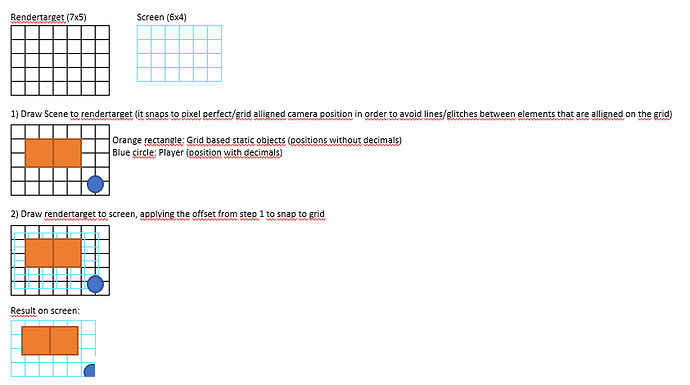 Now, when I finally draw the backbuffer with the full scene to the screen the image looks fine with any camera position when there is no camera-movement, also when the offset has decimals (e.g. -4.23,-1.85). The problem occurs when the camera is moving to follow the player: Static objects, especially those with sharp/detailed textures, appear slightly twitching/stutterish. This is due to the texture, not snapping to device pixels anymore, I guess. To be clear: The unwanted effect is not huge, but if there is way to make it better, I would like to know how.
I tried several things:
Snapping the screenposition to pixels from the beginning → solves the issue for texture-content, but makes the screen movement stuttering / no longer smooth => result is worse
changing sampler state when drawing backbuffer to screen to anything else but LinearClamp seems to make the problem worse or equal.
Does someone have experience with this issue? Any advise is highly appreciated. If this involves going to down to SharpDX or shaders, I'm fine with that. My target platform is Windows only.
Thanks!