Hi,
I'm just getting started with 3D programming and am trying to get a basic camera setup and a grid rendered.
My camera is setup like this:
cameraTarget = new Vector3 (0, 0, 0);
cameraPosition = new Vector3 (0, 30, -50);
projectionMatrix = Matrix.CreatePerspectiveFieldOfView (MathHelper.ToRadians (45), GraphicsDevice.DisplayMode.AspectRatio, 1, 1000f);
viewMatrix = Matrix.CreateLookAt (cameraPosition, cameraTarget, Vector3.Up);
worldMatrix = Matrix.CreateWorld (cameraTarget, Vector3.Forward, Vector3.Up);

I then draw my grid resulting in this: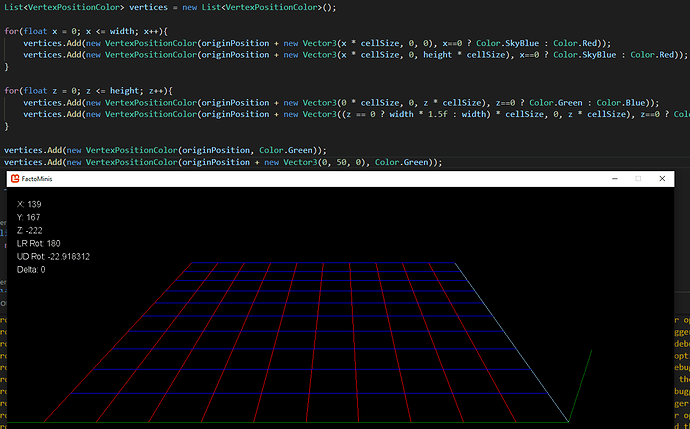 In the screenshot above, the origin (the part with a vertical green line) appears to be on the right hand side of the grid with positive x values moving to the left of the origin rather than the right.
My question is, am I misunderstanding something or doing something wrong?
Should a line between say 0 and 20 move to the left rather than the right of the origin?
Or have I some how done something to invert the X axis for my camera?
Thanks