So I'm working on a little engine using Monogame and BEPU physics, and I am trying to figure out the best way to organize my scenes to minimize graphics calls while keeping the scene sorted so as to render correctly. I have yet to find a nice concise article that describes best practices in terms of XNA or Monogame.
I've done some thinking and I have come up with 3 solutions, mostly revolving around using "flags" in my rendering stack to handle state changes:
Solution 1 - Mega Effects

The basic idea here is that my scene would have a Render method which I pass a "Mega Effect" interface to. For each material, I would update the textures and things like blend modes and depth culling and all that, then render all the instances until the next material change flag. Each instance still needs to update it's matrices, so I still need to apply the pass for each instance (is there any other way to do this?).
Solution 2 - Per-Material Effects

The idea here is that each material keeps an instance of it's effect with the textures and setting already applied, and will render all of the instances until the next material flag using said effect. This is kind of more what I'm leaning towards, but I see a few problems, mainly having to load an entirely new effect and it's parameters multiple times per draw call, burning up some processor time.
Solution 3 - Brute force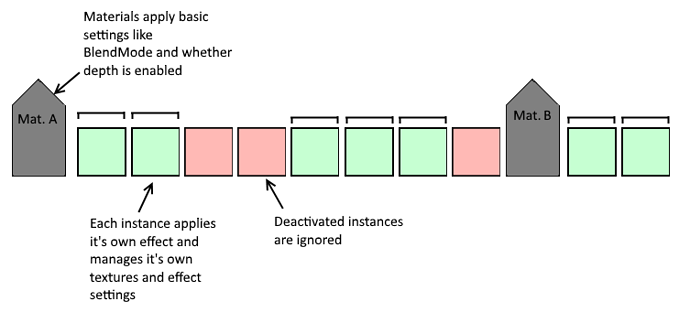 This is my least favorite idea. Basically the materials will only manage low level state changes like blend more, depth culling, the rasterizer, etc. Each instance would be resposible for renderining itself and appying it's effect and textures and whatnot. I'm worried this would be the slowest, as you would constantly be switching between effects.
Any tips or suggestions? I'm kind of at a crossroads here and I'm not sure what path to take. How do larger scale game engines like Unity or Unreal Engine handle this?