Hey everyone,
I've got a quick question about using a folder layout for shared code across projects. Right now I have the following project layout: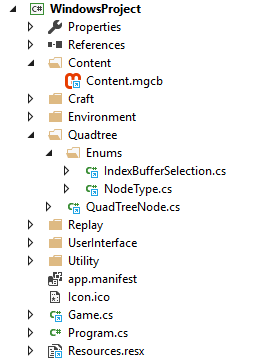 This is a platform-specific project which, as you can see, links to a big bunch of core code, all of which sits in a separate folder and separate namespace, and a content project which, again, has its own folder. I arranged my project based on this blog post.
The annoying thing is that all of the folders containing the linked code (here called Environment, Quadtree, Utility, etc…) have to be re-created in my platform-specific project folder. This means that every platform project I create will have a tree of empty folders, identical to the core code folder structure, which is a bit of a pain.
Is there a way to see the correct folder structure for all the linked code without creating a load of empty folders? Can I just link to the folder structure of my core code?
Thanks!